Maximum reliability and less maintenance
Enjoy a flight in perfect relaxation
Revolutionary IP67 wireless throttle control
The 3.6 kW/h battery provides 50 minutes of autonomy.
The 5.8 kW/h battery brings the autonomy to 80 minutes of flight.
Airitaly Electric Paramotor
No more vibrations and noise!
The new Air Italy EPG-21 Electric Paramotor uses a brushless motor which guarantees great performance, reduced maintenance, greater reliability compared to traditional engines and is more compact for the same power.
The revolutionary electric motor of our EPG-21 paramotor is capable of generating, with its 130 cm Tribal E-Prop propeller, a good 86 KG of static thrust with low inertia and high dynamic performance.
The EPG-21 also has the characteristics of the best chassis, with adjustable and tilting lower arms and anti-torque correction.
Supplied with APCO harness.
for bookings
Gennaro +39 3382236767
Pierpaolo: +39 3487618455
Airitaly: +39 0815318285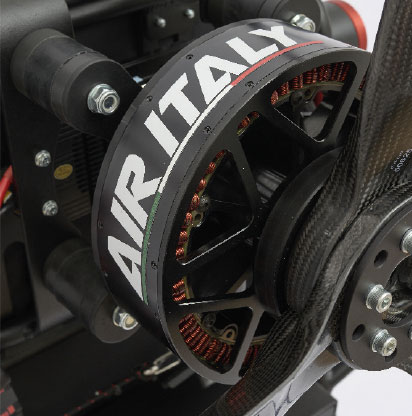 Thanks to powerful batteries, the weak point of electric motors is finally overcome.
The 3.6 kW/h battery, rechargeable in 2 hours and weighing 17 kg, guarantees 50 minutes of autonomy.
The 5.8 kW/h battery brings the autonomy to 80 minutes of flight, with a weight of only 22 kg and recharging in 3h.

TECHNICAL FEATURES

Voltage: 100 volts
Amperage 210 A
Efficiency 87 %
Anticorrosive stator
Independent cooling system with centrifugal ventilation.
IP67 protection against rain and dust.
Controller Wireless IP67
Thruster weight 4,17Kg
WHY CHOOSE AN AIRITALY PARAMOTOR?
BECAUSE AN AIRITALY… IS AN AIRITALY
We have a team of experts which studies the best way to make the pilot feel comfortable during his flight.
Our developers are first of all pilots keen on flights, just like you are.
Our team of expert pilots tests our paramotors in every condition.
Discover our selection in our flight accessories catalogue.
PACKAGES COURSE AND EQUIPMENT
*WITH QUALIFIED INSTRUCTORS.
Safe and quick delivery all around Italy
2 YEARS WARRANTY ON FRAME AND ENGINE
Maximum support and maximum customer care
No stop assistance worldwide
Complete package with equipment, lessons, and license
MAKE AN APPOINTMENT TODAY
ARE YOU LOOKING FOR FLYING EQUIPMENT TO TRY?